Episodes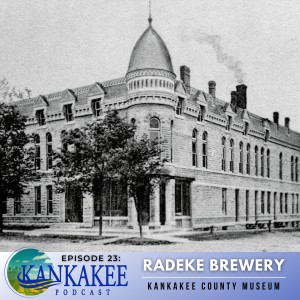 Monday Oct 18, 2021
Monday Oct 18, 2021
Radeke Brewery, west side of Dearborn Avenue, south of River Street Photoengraving from 1900 pictorial booklet, Souvenir of Kankakee by Irvin W. Powell.
Hey! I hope you've been enjoying the fall like weather we've been having lately here in Kankakee County. Before we dive into this week's episode, I just wanted to say thank you to everyone who came by and said hello at the Kankakee Podcast booth this past Sunday at Halloween Downtown. I had such a great time catching up with old acquaintances while making new friends. Also, thank you to Amy Laws of Rotary 609 for allowing me to have a vendor space at the fest! 
Long before the days of Brickstone Brewery in Bourbonnais, Kankakee County was home to another successful beer brewing company, Radeke Brewery. It was located on the west side of Dearborn Avenue, south of River Street in Kankakee, from 1873 until 1922. Jack Klasey and Veronica Featherston of the Kankakee County Museum were kind enough to walk us through the entire history of The F.D. Radeke Brewing Company. The museum has a wonderful exhibit of the brewery that I highly suggest checking out. 
Kankakee County Museum Website: www.kankakeecountymusuem.com
Facebook.com/kankakeecountymuseum
Instagram.com/kankakeecountymuseum
Read Jack Klasey's articles in The Daily Journal here: https://muckrack.com/jack-klasey/articles
Much Love,