Episodes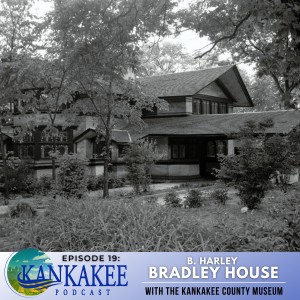 Monday Sep 20, 2021
Monday Sep 20, 2021
B. Harley Bradley House, 701 S. Harrison, taken in July,1952, following the death of Joseph Dodson, who lived there for many years. The photos were taken for newspaper sale advertisements. The house was purchased by two men from Michigan, who opened a restaurant called Yesteryear. The house was designed by architect Frank Lloyd Wright for Mr. and Mrs. B Harley Bradley of Kankakee. 
Hey! Welcome back to our monthly episode of Kankakee Podcast with The Kankakee County Museum! Unfortunately, we didn't have an episode with the museum last month because of some technical issues on my part. It feels good to be back on track. Thank you for your understanding!
On this episode we are joined by local historian, Jack Klasey, and museum executive director, Veronica Featherston, to discuss the colorful history of one of Kankakee's most famous landmarks, The B. Harley Bradley House. 
To learn more about the Kankakee County Museum or the French Heritage Museum, visit kankakeecountymuseum.com. 
Much Love,