Episodes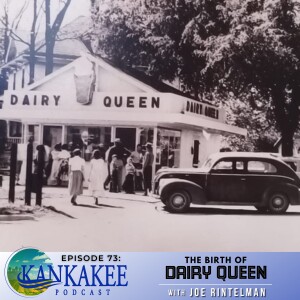 Monday Dec 12, 2022
Monday Dec 12, 2022
The first Dairy Queen store may not have opened in Kankakee County, but their famous soft serve was first taste tested by the public here. On August 4th, 1938, Sherb Noble had an all you can eat sale for this new innovative frozen treat for only ten cents at his ice cream parlor on West Avenue in Kankakee. The sale was a huge success and sold over sixteen hundred servings in just ninety minutes. By 1940, Sherb opened the first Dairy Queen store in Joliet, IL and eventually opened several locations in Kankakee County.
Today, the Noble Family still owns and operates nine Dairy Queen stores, five in Kankakee County and four in Kane County. Joe Rintelman, who married into the Noble Family, now oversees the operations of the stores and carries on the tradition. Joe was kind enough to join me on this episode of Kankakee Podcast to walk us through the iconic history of Sherb Noble and DQ.
I'd like to sincerely thank Joe and the entire Noble Family for signing on as one of our first sponsors of Kankakee Podcast. It's a great honor to be supported by one of the most historic families in Kankakee County. 
Learn more at http://noblestores.com/
Much Love,
Jake LaMore
P.S. Support the podcast for as little as $1/month: https://patron.podbean.com/kankakeepodcast